---
l
[fbvideo link="https://www.facebook.com/thesecretofpros/videos/1586747361343172/" width="1200″ height="800″ onlyvideo="1″]
l
Why the artist suffers like gold prospector?
If you are a young talent or even a very advanced artist, I will explain why you are like a gold prospector.

l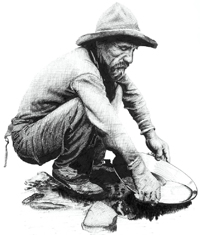 l
Gold prospectors are characterized by three words: SEARCH, SUFFER, TREASURE.
l
1 – To succeed, you are spending your time "searching" for contacts!
2 – While you painfully search for the people who make the bookings, at the same time, you have to train hard, create, take pictures, videos, etc. At this rate, you are going to "suffer" like this for years before managing to get your business to take-off.
3 – Sometimes an artist can give you one or two addresses when you are friends, but not many. But what was really going on? In reality their entire address book remains a well-guarded secret! Doing their own promotion has cost them a lot of time and money. What's more, their important contacts are acquired out in the field, during shows, working hard. That's why address books are like hidden "treasures".
The problem with Internet.
You have been searching online but you are getting nowhere. No panic! It's normal! Why is that then? It's simply because, if you aren't at the heart of the system and there is no way you can know the really important people, that is, the people who make the bookings

No panic, there is a solution and your life will become easier.
Click here to see the solution: MY BUSINESS
l
l
l
l