★★★★★
Excellent choice of music! Very beautiful personality, and beautiful presence! Nice technique in harmony with music! Smile maybe a little more, and more winks to the audience… If I was director, I will engage you right now…!
★★★★★
Here is an act as I like. I love, the choice of music, the technique, the choreography… his behaviour shows a lot of ease… his relationship with the audience, the lighting. My only advice is maybe revisit the choice of your costume, more related to the chosen musical theme. An excellent act.
★★★★★
Victor is like a breath of fresh air. Easy on the eye. The work is technically very good, exciting to watch, unusual movement/choreography, he looks very good in the ring. This is an act of high quality. The presentation and style unique. Victor doesn't need to worry that his act will be copied in a hurry. I really enjoyed watching it. My advice is to work to or with the music more. Is the props table necessary being there from the start? Try to do the last trick longer or something else. Would be nice to have a more amazing wow ending. 7 clubs isn't easy but its not long enough to really nail the audience. I would gladly have this act in my shows.
★★★
The artist offers us an excellent juggling act with balls and clubs, I had a good time, very pro… My advice: beyond the quality of the act, it seems to me that more interaction with the audience would be better.
★★
I'm not a fan of Jugglers however, if the act is spontaneous, super exciting, vibrant, appealing showmanship, then I do pay attention. Your juggling skills are great! I would like to offer some points to assist you to achieve greater things and absolutely perfect your act. 1. I feel that some of your music choices need reviewing and replacing and make sure that your edits are smooth….they are currently not smooth. 2. The moving lights are extremely distracting to your act….avoid moving lights. 3. Your costume, is also a distraction from your act……have a professional designer to design an original costume for you. 4. Engage a professional choreographer to choreograph your routine. As I said, your juggling skills are great, you have appeal but you now need to take your act to another level. I wish you all the very best… in bocca a lupo !!
★★★
You are in your world! Crazy or genius, I do not know … but I like! My advice: your act seems a little too long, I would remove 1 min and I would hire a choreographer!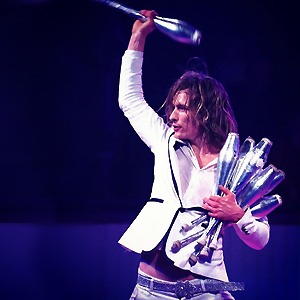 🙂 I have no words… I am Happy to read what has been organized by Tom Shanon.
Dear Steve, Roger, Sergio, Adam, Pascal, Vostinic, immense gratitude to You for everything! Your words are invaluable. This finest that I saw in my creative career. Your comments and attention help to find the best for artists and give the feel, that there are people who care for quality and content of art.
Immense Respect and Love for everyone. I promise to do everything possible for realization of your Desires.
Victor Krachinov
Advice for all artists:
Too many artists, no matter how talented they are, give up because they can't figure out how make a living from their talent. Over the years, I have noticed that the most frequent mistake made by talents is to think that it is enough to be at the top of your art form. The main reason people give up is that they lack the information they need about the BUSINESS, and the METHODS which are specific to show business. Tom Shanon