I absolutely love your performance. Your sensuality, grace, strength and movements are superb. Unique choreography executed with precision, control and creativity. Your music is also perfect in every way and compliments the overall atmosphere. I can really offer no advice aside from one small observation….your costumes can be re-visited but then again, I'm assuming that you are in a production and your costumes are themed accordingly? Congratulations! I will keep you in mind for our next upcoming production shows. Please message me privately on facebook 🙂

Sensual hand to hand act… the tricks are great… but the costumes and the entrance on stage did not please me.


Very nice act and very sensual…
There is not much light, I think it is wanted… so use costumes with more light colours, this will help to show your sensual movements. Very nice work … I had a good time.

Quality work and I liked it very much. Perhaps the act could be more exciting. Not sure what to suggest. If it was one of their 2 or 3 acts I would snap them up immediately, but I am looking for acts for cruise ship and there is other work. As much as I liked the act it feels like something is not quite right something missing. My advise is to take note of feed backs and depends if there are plenty of work offers or not do something about it.

Knowing how you both started, I have to say – congratulations for your act. As you know me – PASSION is the KEY for EVERYTHING and I don't see it with you Milana. I can see how much you concentrate and everything you do, each touch with a hand, each connection with your husband is placed, but not on purpose. Open your personality and let the woman appear. Your act would be so much stronger, if both of you would feel each other. You need to add these things, to be different and special, because the tricks – we all know! My best wishes and succsess!!!!


I love the acting in the beginning it's exciting. Beautiful number and nice choreography. I would think about the music. The music is very "rock" but their movements aren't.
All in all great number and impressive skills.

I like the slowness of their work which reminds me of the energy work of internal martial arts (another way to explore). We really see the pleasure of the man to share his art, a little less in the woman who has a more closed face and it is a pity. I'm not a fan of their musical choice. I would like to hear something more Zen and less rock. I appreciated this aesthetic act that did me good.

I like your show, I understand the style but I think your clothes are not special enough for a show.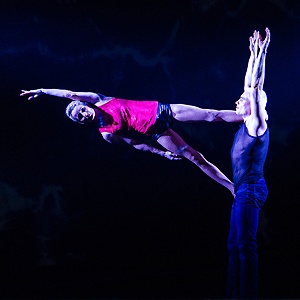 Thank you all VIPs – Manuela Löffelhardt, Adam Dion Bahoudian, Sergio, Nadine Imboden, Roger Marcello, Steve Bor, Carlos Vaquera, Pascal Daudey, Vostinic Veroljub – for your criticque of our performance. Hope we meet somewhere on the stage.
GREAT ADVICES FOR ARTISTS!